OUR CLIENTS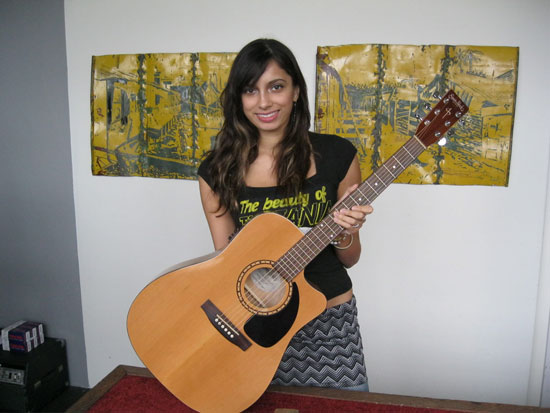 This is Alysha Brillinger with her "saved" guitar. Another local repairman had unfortunately rendered it unplayable, but we here at Bob's were able to bring it back. You can see Alysha performing her songs at the Little Bean Cafe in Kitchener and performing jazz standards in Toronto at the Reservoir Lounge.
[Photo Missing]
Here is Scott MacQueen holding his newly repaired guitar after running over it with his skateboard!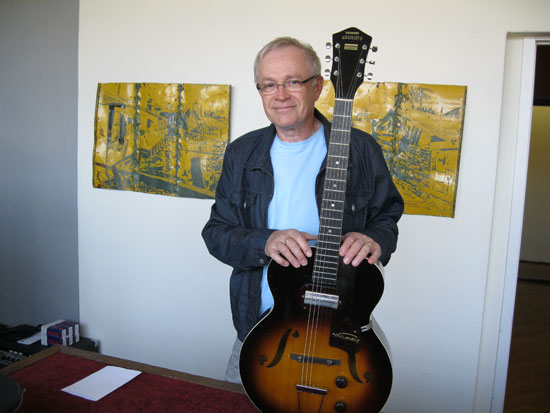 This is Richard Fuller with a rare Harmony guitar that he brought in for repair. After some intense research this guitar was dated to be manufactured in the Summer of 1954. Sounds like a song, eh? Richard is the long-serving conservator of the Waterloo Region Museum and a secret blues slide player!
Here is Ben Grossman from Guelph with a very rare Egmond guitar made in Holland that he just bought from Bob's. Ben is best known as the hardest-working hurdy gurdy player in North America as his music is heard on movie soundtracks around the world!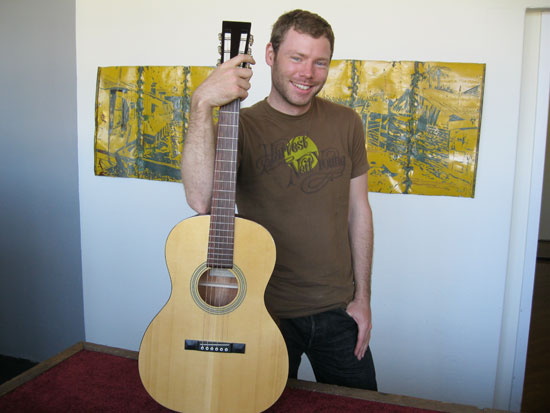 Here is Ian Willms with a Recording King guitar he just bought at Bob's Guitar Service. He is smiling because a) he just bought an awesome guitar and b) he just received his first photography assignment from the New York Times! He will be shooting the Roncesvalles neighbourhood in Toronto for the Sunday Times Travel section. Congrats Ian!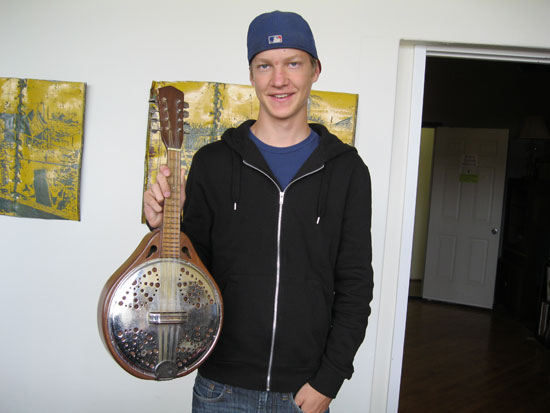 You don't see these everyday. Here is Andy Miller with a 30's era mandolin with a "dobro" cover plate. Dobros were quite popular in the '30s so this manufacturer decided to copy the look. The only problem is that the cover plate is purely cosmetic! There is nothing underneath it, the manufacturer was simply cashing in on the all-things-dobro craze.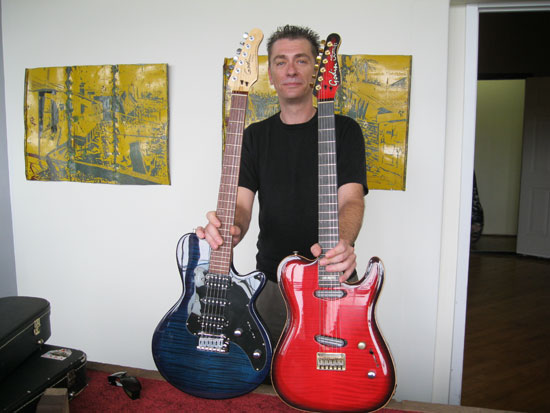 Two Godins in one week??? Here is local blues legend Chris Latta with not one, but two Godin electrics. His guitar, on the right sat unused in the closet for the past several years until we got it back in working condition. You can see Chris every Sunday afternoon at the Boathouse in Kitchener, ON playing sweet, sweet blues with Miss Angel.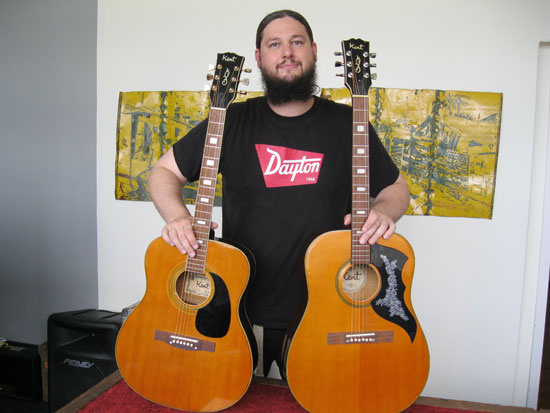 Here is Ryan Allen, local musician (the Speakeasies, the Minatures) and studio owner with not one, but two vintage Kent guitars. These guitars were likely made in Japan in the '60s by either Guyatone or Teisco and were made to stand the test of time. With a fret level and bridge planing they both turned into quite playable guitars. What are the chances of two of them showing up in the shop at the same time?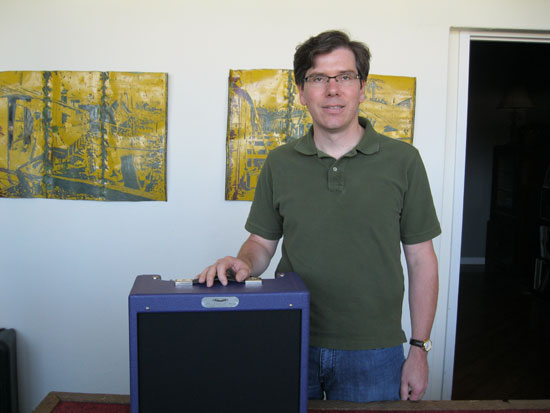 Here is local amp and electronics guru Todd Schneider with a prototype of his Audio Fab purple monster amplifier. Bob test-drove it at the Molson Amphitheatre in front of 10,000 people and certified it as "awesome."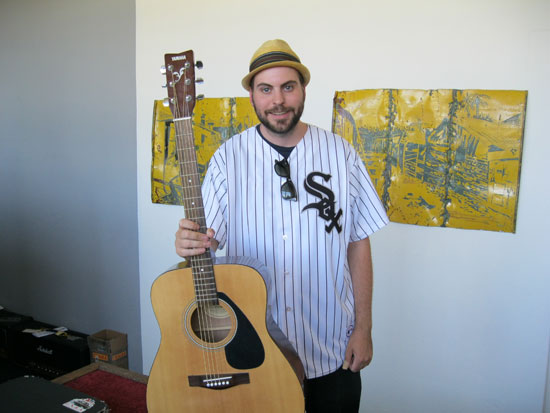 Here is Will Muir with an old Yamaha he is donating to our "Guitars for Youth" program. Thanks for making a difference Will! Will works at the new St. John's Music in the Tannery Building. He has also just opened a new recording studio in downtown Kitchener!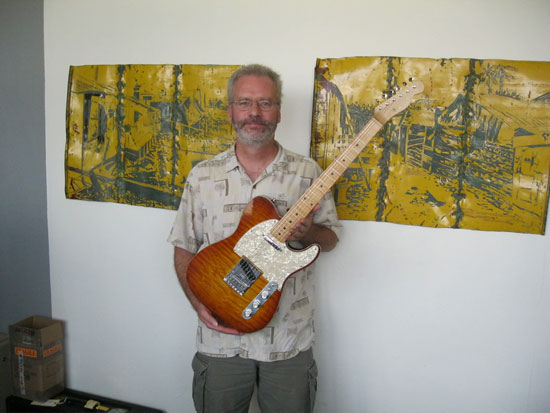 Here is Ward Brownell, a local family law lawyer with his Hammertone Telecaster - a stunningly well-built guitar. The Hammertones were made in Hamilton at the Guitar Clinic in the 90's by Mike Spicer, a very accomplished luthier. Although Mike made many Strats, Teles and Les Pauls his most widely-known creation is the Mandoguitar. Working with Colin Cripps he designed and manufactured a mandolin-sized 12-string guitar. These found their way into the hands of artists like Ry Cooder, Mike Campbell (Heartbreakers), Buddy Miller and the Dixie Chicks.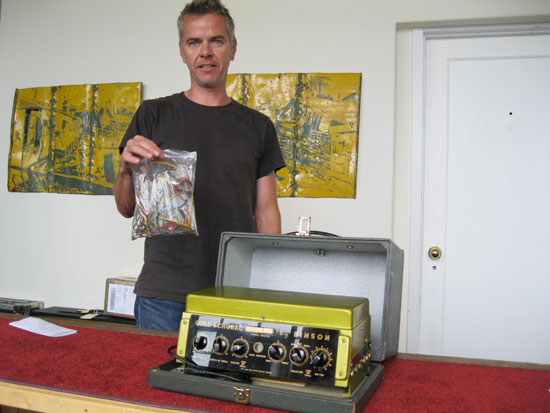 Here is Mark Kesper from our sister store Capsule Music in Toronto, with the famed Binson EchoRec 60's delay unit. In his right hand he holds every wire that was formerly in this unit. All the wiring was replaced by our amp guru Jordie Jackson because it was self destructing, causing the unit to short out and malfunction.
Here is one of KW's inventor geniuses, Mike Pawson with his carbon fibre Meadow guitars - one finished and one in the works. If you have ever "tubed" down a ski hill you may have been riding on another of mike's inventions - the high tech snow tube!
Here is Ryan Sullivan, a full time electrician and avid guitar collector bringing in a rare bird for repair - a 60's Italian-made Goya Rangemaster. In all my years of searching for these things, this is only the second one I have come across. The coolest feature of this guitar is the 2 rows of push buttons that switch between the pick-ups and different tone settings. They are known in the guitar trade as Vegomatic buttons - they slice and dice that is for sure.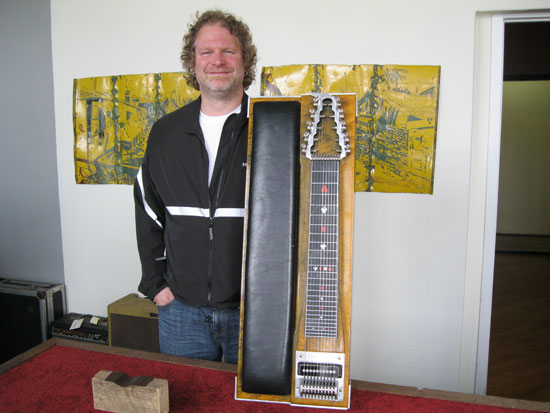 Here is Adrian Jones, teacher and performer par excellence with his latest instrument to conquer - a 70's ShoBud, Lloyd Green model pedal steel guitar. He rescued it from a dark basement and we got it back up and working. It must be the season for steel guitar - Bob's has received 4 requests for pedal steel guitars in the last few weeks!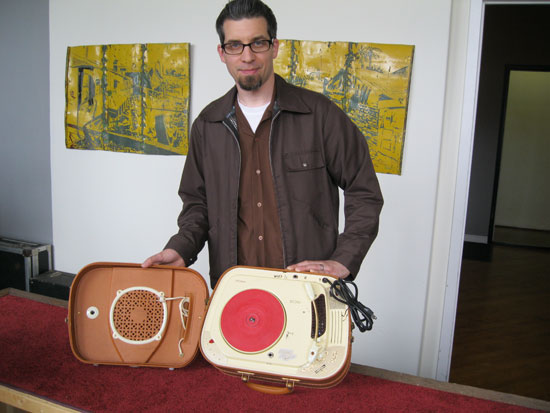 This is Mike Elliot with a recent repair he brought in for Jordie (our amp repair guy). This is an Oscar Teppaz portable stereo turntable that has been modified by AmpArt to be an awesome harmonica amp for the studio and the stage. Mike uses this with his Kitchener-based band, Daddy Long Legs.
This is our client Peter Hunter with his F Bass built by George Furlanetto from Hamilton, ON. George has been building basses since the late 70's, it is his life passion. Peter is the founder and president of Master Craft Wood Turning in Elmira. In fact he built the knobs on this bass from African blackwood.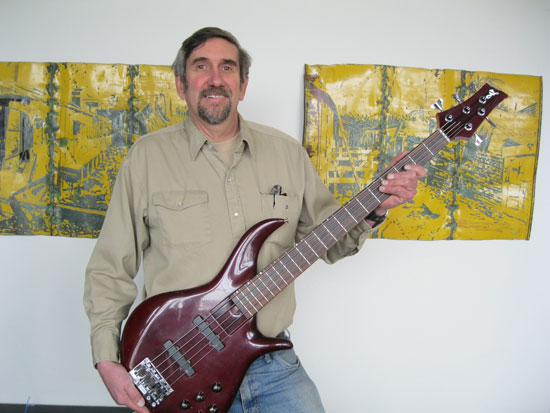 This is a BGS client John Baldwin with the first two Les Paul guitars he built from scratch. They are heavy but check out the beautiful tops! John has a few Teles that he has built as well. And here is the wild thing - he doesn't even play guitar!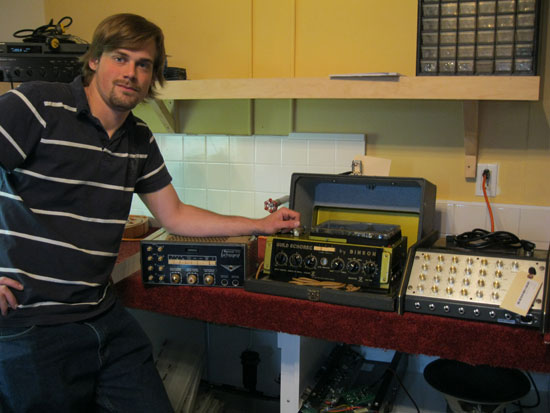 This is our amp tech Jordie Jackson with a batch of repairs - the first generation of delays. On the left is the Dynacord an early 60's German tape echo. On the right is a LEM, an Italian tape delay with a built in 6-channel mixer. In the center is the Binson EchoRec a 50's delay that is built like a tank. It uses an analog magnetic drum instead of tape to create delays. This model was used extensively by Pink Floyd on their first several albums.
Here is Suzanne Doyle with her late brother's Gary's first guitar and amp. She brought both in for repair as Gary's wish was to pass these on to his grandchildren. Lucky kids! Suzanne is just finishing her 2nd record with esteemed producer Darryl Neudorf and Grapes of Wrath frontman Kevin Kane.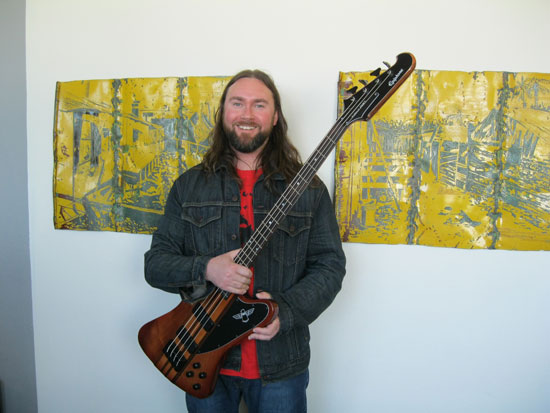 Here is Rob Keith with his new bass that his wife bought him for his birthday. He just got it set-up to C#, a step and a half lower than the average bass, for his heavy, heavy band - Hawkeyes.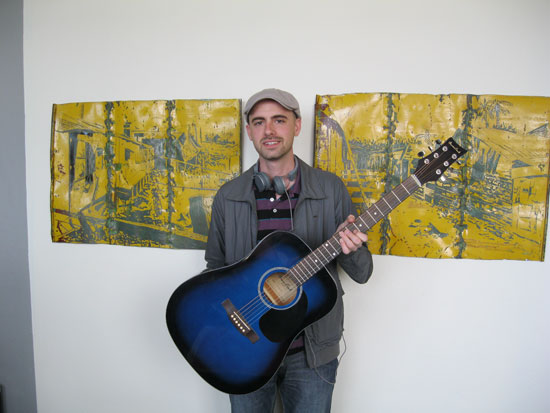 Here is Matt Thwaites, local musician and youth social worker. He is holding a guitar donated by BGS to his workplace - The Ray of Hope Youth Addiction Services Center. Here at BGS we accept instrument donations for youths in need because we believe in the power of music. Feel free to contact us to help us to help others.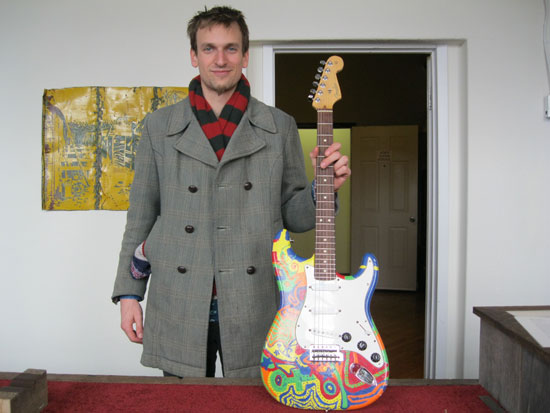 Here is Kyle Lawler with a frankenstein strat that he assembled and painted. Months ago thieves broke into his house and stole 14 guitars. For some reason they left this one..............their loss as it plays, looks and sounds great!