WHAT'S NEW?
LOLLAR PICKUPS
Jason Lollar is nothing short of the modern guru of pick-ups. In addition to building world class guitars he has written two authoritative books that are the bibles for pick-up winding and pick-up tone. This guy is passionate about pick-ups and has been called the "spark" of the whole boutique pick-up movement.

The list of pros using Lollars is pretty heavy – Keith Richards, Bill Frizell, John Fogerty, Jay Mascis, Joe Walsh and Jeff Tweedy to name a few. No one plugs into a Lollar and says "meh….."

Bob's Guitar Service is honored to become one of the rare Lollar dealers in Ontario. Here are a few models we are really excited about –
---
IMPERIAL HUMBUCKERS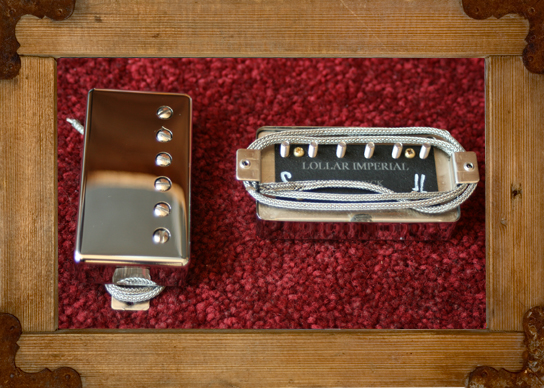 This is Lollar's take on the classic PAF humbuckers – airy top end, tight lows and balanced mids. Using Alnico 2 magnets for the neck and Alnico 5s for the bridge these units deliver the complex overtones that are so sought after for feel and responsiveness.

Our client Jeff Davis had a set installed in his Les Paul and here's his reaction – "The Lollar Imperials bring out the nuances in my Gibson Les Paul Studio. They sound deeper and more detailed in comparison to the original standard humbuckers. These are a huge upgrade for the money and fast turnaround. Thanks for recommending these Bob!"

The Imperials come with a Standard Wind model (as described above), a Low Wind (as found in the vintage 335s – a "toppier" tone) and a High Wind (to push your amp harder for more distortion and sustain).
---

SINGLE COIL FOR HUMBUCKERS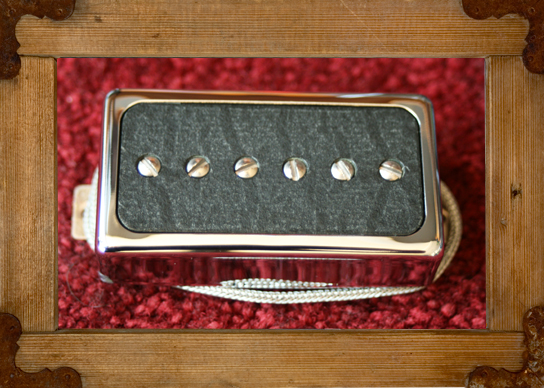 Finally, a P-90 that drops into a humbucker cavity with no routing! It has all the grit and juice of the classic P-90 with a size that allows installation with no modifications to the guitar.
---
FIREBIRD STYLE PICK-UP

This is a humbucker that sounds more like a fat single coil than a humbucker. It has less snark than a mini humbucker and more spank. It is also modeled after the original Firebird pick-up – the pick-up in the bridge position of Neil Young's Old Black, his treasured Les Paul with the Bigsby that defines his electric tone.

---
VINTAGE BLACKFACE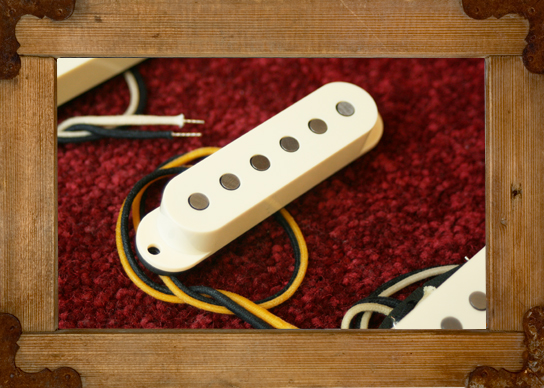 The classic pre-CBS tone – scatter wound wax potted coils degaussed to vintage specs. The middle pick-up is reverse wound and reverse polarity to achieve humbucking operation in positions 2 and 4.

---
VINTAGE T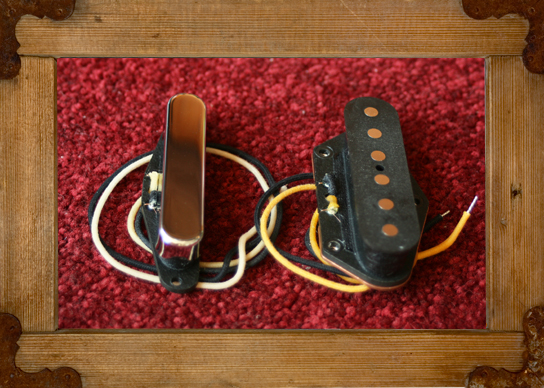 The most requested pick-ups here at BGS – Tele pick-ups with a fuller tone and a touch more sustain than typical tele-type pick-ups. Full-bodied midrange and twang!

---

We are also excited by –

EL RAYO HUMBUCKER (pictured below) - wound to match up well with single coil pick-ups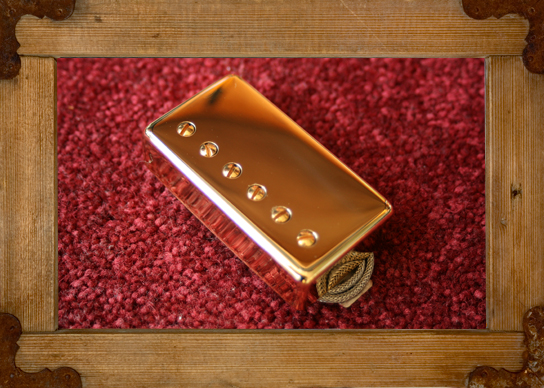 LOLLARTRON HUMBUCKER - modeled after the 60's Country Gentleman tone

CHARLIE CHRISTIAN - deep tone and sustain for Teles and Les Pauls

JAZZ BASS AND P-BASS models – top shelf upgrade choices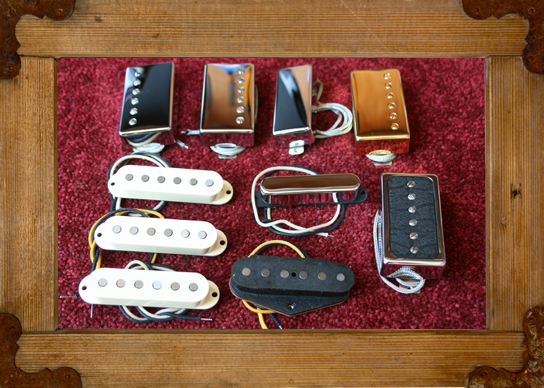 Lollar is great company with fantastic pick-ups that take your guitar's tone to the top level. But don't take my word for it - check out
their website
and listen to their soundclips.
---

K&K SOUND



K&K SOUND was founded in 1984, in Germany by a guy named Dieter. He developed a revolutionary pick-up system for amplifying his vibraphone. In my opinion if you can successfully amplify a vibraphone, you can amplify anything well. And that is exactly what Dieter did – he took his expertise and developed a word-class method of amplifying acoustic instruments.

Using transducers affixed to the guitar's bridgeplate Dieter came up with a system that delivers a balanced tone with a super dynamic range that has won awards worldwide. His transducer systems are also perfect for those hard-to-amplify instruments like mandolin, ukulele, dobro and the upright bass.

I have found they work great both passively and with the K&K pre-amps. They are appropriate for a wide range of playing styles and situations due to their ability to amplify both delicate and dynamic playing.

---

PURE MINI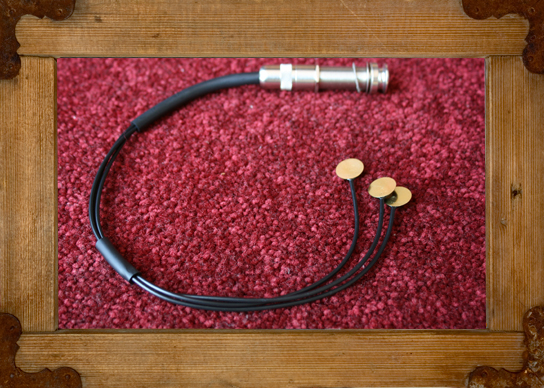 The first choice for any acoustic guitar – warm, woody and responsive. This system won the silver medal in the 2006 reader's poll in Acoustic Guitar Magazine!

---

ULTRA PURE MINI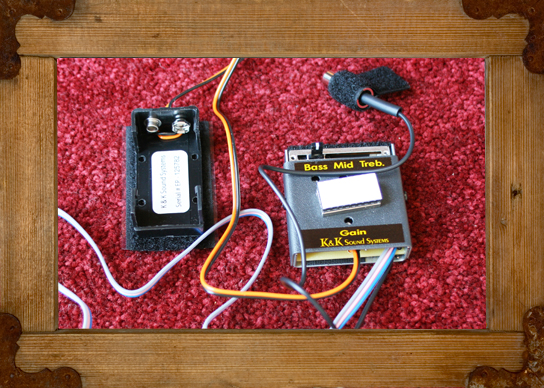 Starts with the award winning PURE MINI and adds a state of the art 3-band E.Q. to dial in your guitar's sweet spot. It is offered with an optional volume control.
---
TWIN SPOT INTERNAL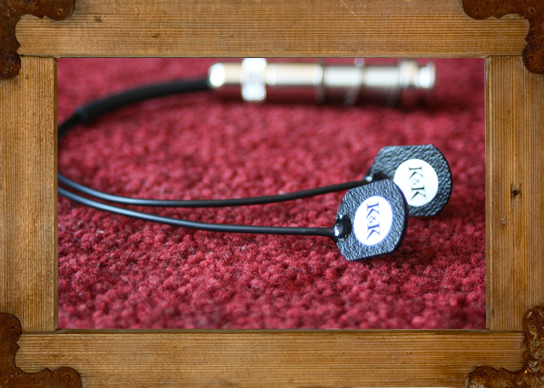 l.
Two perfectly balanced transducers ideal for mandolins and smaller instruments with limited access inside the body.
---

TONE PRO SOUND LABS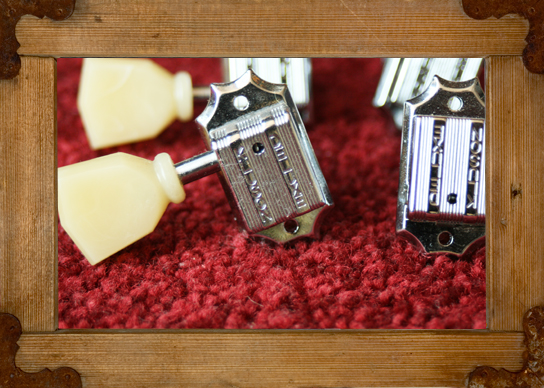 Tone Pro was formed 15 years ago in California with the expressed purpose of building the highest quality tuners and bridges on the market. In my repair business I have had to compensate for parts machined to loose specs or wobbly tolerances for decades. I've seen expensive, big-name guitars with tuning machines that slip or housings that separate from the body. I've seen bridges that jiggle and wobble cause tuning problems as well as compromise both tone and sustain.

Finally we can kiss these problems goodbye with TONE PRO bridge systems and TONE PRO/KLUSON tuners. Some of our favorite pieces –

---


LOCKING TUNOMATIC STYLE BRIDGES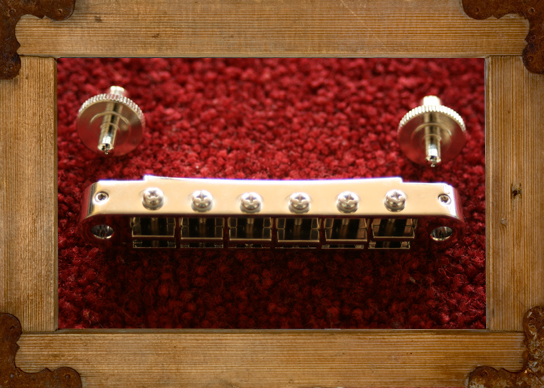 These bridges come in both the Nashville and ABR tunomatic styles and every post and thread combination to retrofit to any guitar. The two features that place these bridges heads above the competition are A) small set screws that lock the bridge into the post - genius (!) and B) saddles that are "engineered in" – machined to such tight tolerances that they do not lift or wiggle in the housing and intonation adjustment screws that fit very snugly into their threads – also genius (!). This all adds up to increased contact area between your strings and your guitar body and that means better tone and sustain.

TONE PRO also manufactures posts, tailpieces and wraparound bridges to the same beautiful specs. And they come in a variety of the standard finishes.

---

TONE PROS KLUSON TUNING MACHINES




TONE PRO has applied their cutting edge technology to the classic, vintage Kluson line of tuning machines and the result is a mechanically superior machine in a vintage, easy to retrofit housing. These machines are engineered with an exceptional, tight, smooth gear feel and boast completely sealed components for a lifetime of unparalleled use.

TONE PROS KLUSON are manufactured in all the classic configurations – three on a side, three on a rail, six on a side and locking. Options also abound regarding the mounting bushings, button styles and finishes.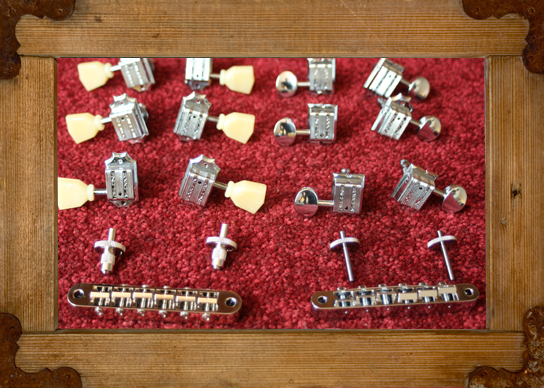 Gibson USA is now among dozens of manufacturers equipping their guitars with TONE PROS. Check out the details at tonepros.com

---
BRTB CABLES




We will admit it – cables are not sexy and they are usually the last thing a player thinks about in his or her set-up. But I can testify from first hand experience that cables are a vital and key component to every guitar players tone.

We at BOB'S have researched cables endlessly looking for that holy grail of tone, durability and price……..and we found it with BRTB cables. Ask us about cables the next time you are in the shop and we'll show you the number and specs that will make you a believer in BRTB cables.

"These cables are incredible. We made the switch to these on our guitars/amps/patch bay. With these cables not only is the connection to the guitar/amp amazing but the signal doesn't degrade from source to source. We have three rooms connected with BRTB cables and can rely on a signal that is clean, clear and free of latency." - The Sound Distillery (Kitchener-Waterloo).

---
EASTWOOD GUITARS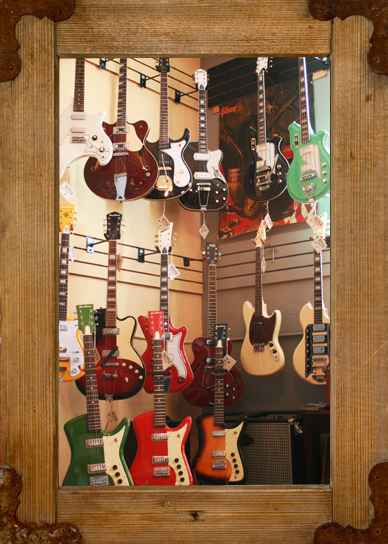 I used to collect the old Airline, Supro and National guitars – I was crazy for them and had a whole room full of these art deco Americana guitars. They were great to collect but not so great to play in the studio or on the stage. They were not very playable and they never stayed in tune and believe me I tried and tried to make them work but alas, it was all in vain.

Thank goodness Mike Robinson founded Eastwood in 2001! Like me, Mike was a huge fan of the vintage "wacky" guitars but unlike me he did something about. He re-designed all the classic art deco guitars of the 50's and 60's to sound awesome and stay in tune. I personally cannot thank him enough. In fact long before I was a dealer I bought 2 Eastwood guitars right off the shelf – that is how impressed I was with Mike's design.

BOB'S is proud to be the only Eastwood dealer in the area – we stock quite a few and we can quickly get most models and colours.

Check out the "whack" at eastwoodguitars.com.


---
RECORDING KING AND LOAR ACOUSTIC GUITARS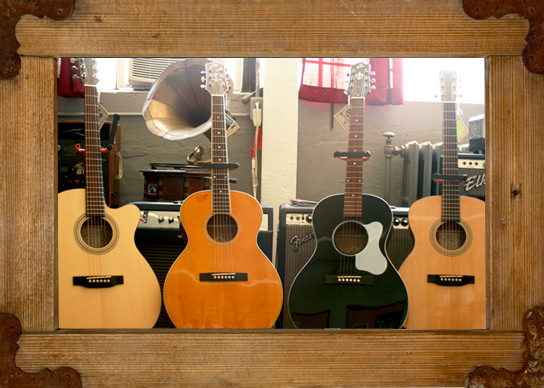 There are hundreds of acoustic guitar manufacturers and makers to chose from but for us here at BOB"S we remain impressed with 2 companies that are keeping the pre-war tradition alive: RECORDING KING and LOAR.
These companies but solid-top guitars with pre-war design features and quality. And they sell at a price that will make you say "Wow!" Trust me on this – I've put these guitars in the hands of the most respected local players and their first "Wow!" comes when they hear the volume and tone. The second "Wow!" comes when I tell them the price.
These are 2 respected companies that stand out from the rest and we are proud to carry them.
Check out their guitars, banjos and mandolins at -
recordingking.com
theloar.com
---


DANELECTRO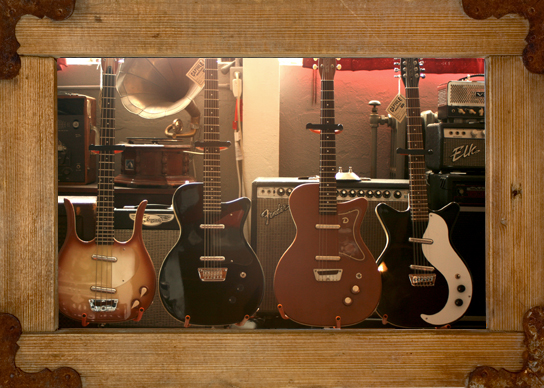 Danelectro is an old name with a new life. You can't miss their distinctive headstock, body styles and lipstick tube pick-up sound. Known world-wide for their basses and snarling 6-strings Danno has now added the popular baritone guitar to their collection. We are glad to have them in stock! See more info at danelectro.com


---