LEARNING IN CHICAGO
I learned guitar repair in the 80's from the esteemed luthier Bruce Roper in downstate Illinois. But my real education came in the early 90's when I opened Bob's Guitar Service in Chicago's Wrigleyville and Wicker Park neighborhoods.
Chicago is a great city but it can also be a tough city, especially when it comes to repairing guitars. In the early 90's it was a working musicians town – my most demanding clients were those grinding it out in the blues bars or neighborhood taverns 4, 5, 6 nights a week. They earned their money 4 sets at a time, night after night. For them to part with their hard-earned cash, they had to be happy with my repairs – there was no room for sub-standard work.
I LEARNED that the buck stopped here. My clients didn't want to hear about why something on their guitar was out of kilter. They just wanted it fixed. My job was to step up to the plate, to find that rare part, to fix that manufacturer's defect, to make some battered heap of wood and string sing again. My clients would tolerate no less. And they didn't and couldn't wait a week for a repair. They wanted everything yesterday. My turnaround was 24 to 72 hours. I drove many a guitar to clients' houses or gigs at all hours of the night because that's what it took. The buck stopped here.
I LEARNED to listen to clients. Setting up a guitar to the manufacturer's specifications was a science - one could learn it and execute it. But setting up a guitar up to a player's expectations is a whole 'nother matter. Players don't care about factory specs, they care about how it feels and sounds. In order for my repairs to satisfy my clients I had to listen to them and ask how they played and what they wanted. I had to learn the story of the guitar. I listen to clients.
I LEARNED not to judge. My clients in Chicago came from every walk of life, every ethnic group, every age category and every level of musical accomplishment. Their guitars cost $100 to $5,000 and everywhere in between. They played rock, polka, metal, folk, jazz, country, reggae and punk. You name it and they played it. But they all had one thing in common – they wanted their guitars to play better and they trusted me to help. I respected that trust treated them accordingly. I don't judge.
OUR REPAIRS
SET-UPS – This is the standard tune-up for guitars. At BGS our set-ups include adjusting the action and the truss rod (putting the right amount of bow or relief in the neck), setting the intonation, dressing the frets and conditioning the fingerboard, dressing the nut slots and the saddles, tightening the tuners and hardware, re-stringing and cleaning. In addition we check the electronics in electric guitars and check all the bracing (and electronics) in acoustic guitars.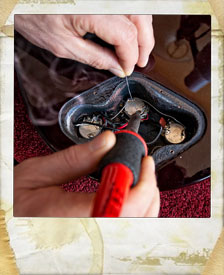 ELECTRONICS – Over time jacks and switches can become compromised by oxidation and use, pots can become scratchy and dirty and solder joints can go "cold" – all of these can affect an electric guitar's performance. In addition, electric guitars are prone to noise from RF signals and other sources of interference. Acoustic guitars with transducers are susceptible to uneven output and failure of jacks. At BGS we understand how to get the best from you guitar when you plug it in.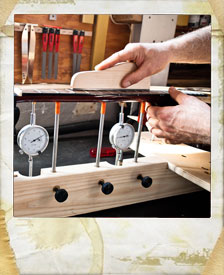 FRETWORK – Frets do the heavy lifting on guitars and suffer from metal-on-metal wear and tear. We see frets that have been flattened from years of play and frets that have divots worn into them from playing the same chords over and over. Frets are also at the mercy of the neck. We see necks that have dried out and contracted/shrunk causing the fret ends to extrude (sharply) from the fingerboard. We see fret end become loose and even entire frets work their way out of a fingerboard that is too tightly compressed. We've got the tools and experience to level, re-crown and dress your frets to their optimal condition.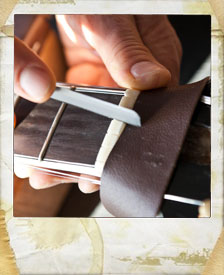 NUTS AND SADDLES – Nuts and saddles are the pressure points on guitars. They are pieces of bone or bone substitute or (gasp) plastic that continually bear the pressure and tension of the strings. They wear down, crack and develop divots and burrs. Nuts and saddles are critical for proper intonation, playability and action. They are also the chief culprit when strings break. We use only the highest quality parts and take the time to file and shape them to maximize their functionality.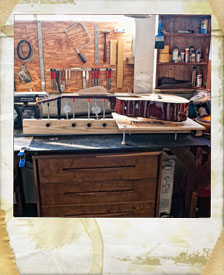 BODY WORK – As guitars go through the seasons they expand and contract with the humidity (or lack of humidity). This causes stress especially on the top, bridge, braces and neck block of acoustic guitars. In this ever-changing southern Ontario climate this stress causes tops to crack and bow, bridges to become brittle and develop cracks or even lift up from the top, braces to become loose and fingerboards to contort where the neck meets the body. We know how to re-humidifying and repair damaged bodies.
OUR PRICES
RE-STRINGING
| | |
| --- | --- |
| Acoustic, Electric 6-string | $15 |
| Classical, 12-string, Mandolin, Floating tremolo | $25 |
SET-UP
Includes restringing, tightening all hardware, dressing the frets, conditioning the fingerboard, adjusting the truss rod, setting the intonation, checking the electronics and pick-up heights, calibrating the nut and cleaning. Strings not included.
| | |
| --- | --- |
| Acoustic, Electric non-tremolo, Classical | $60 |
| Tremolo, Neck Removal, Arch-top, Mandolin | $70 |
| Locking Tremolo, Rickenbaker | $100 |
NUT AND SADDLE WORK
| | |
| --- | --- |
| 6-string, bass nut | $100 |
| 12-string, mandolin nut | $140 |
| 6-string saddle | $60 |
| 12-string saddle | $70 |
FRET WORK
| | |
| --- | --- |
| Level and re-crown | $110 |
| Fret-end file | $50 |
| Re-crown | $60 |
| Compound radius file | $75 |
ELECTRONICS
| | |
| --- | --- |
| Pick-up installation | $50 to $70 |
| Acoustic transducer installation | $75 |
| Replace potentiometer | $30 to $65 |
| Replace jack | $25 |
| Replace switch | $40 to $50 |
| Re-solder or clean pots, jack or switch | $15 to $30 |
| Total re-wire | $100 to $200 |
| Potting pick-ups | $75 to $100 |
MISCELLANEOUS
| | |
| --- | --- |
| All other work billed per hour | $75 |